Moderator: Priests of Syrinx
Posts: 11084
Joined: Wed Dec 31, 2003 1:19 pm
Location: In the shadows of the everlasting hills
Contact:
A newish Rush tribute band. And their guitarist uses Carvin guitars and amps!

Here's their YYZ
http://www.youtube.com/watch?v=_ygpyA34ATo
Aren't you the guy who hit me in the eye?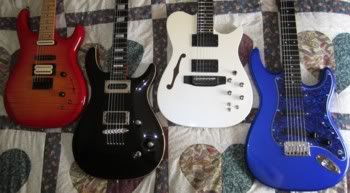 ---
Spot on!

Funny . . . I noticed they weren't a group of young snot rockers. Must taken em years to get that tight! lol
---
Posts: 25037
Joined: Wed Apr 21, 2004 9:42 pm
Location: In a rock an roll venue near you....as long as you are in the Pacific Northwest.
Not too shabby.

This space for rent
---
---
---
---

Confused One say: hunh?
Onward and Upward!
---