Moderator: Priests of Syrinx
Posts: 1295
Joined: Wed Mar 31, 2004 2:09 pm
Location: Mansfield, (UK)
I suggest you all take a look at
this article
. It makes for interesting reading.
'Do not despise the snake for having no horns, for who is to say it will not become a dragon?'
---
Hmmmmmmmm...interesting.

I found Neil's appraisal of the CD in Travelling Music interesting as well. But it was a different type of appraisal.
Onward and Upward!
---
Posts: 9148
Joined: Thu Nov 13, 2003 10:12 pm
Location: Ontario, Canada
link doens't want to work

i have to finish ghost rider before i read my copy of travelling music
---
Posts: 11085
Joined: Wed Dec 31, 2003 1:19 pm
Location: In the shadows of the everlasting hills
Contact:
When I bought the CD (release day) and put it on I first thought that I had blown out a tweeter. Turns out that what I was hearing wasn't speaker distortion, but digital distortion. The CD is overdriven. A lot of people in the Rush forum that I was in at the time remarked on it too. I'd been wondering if the copies that are being sold today had been fixed. If so, I'd probably buy another one.
And that guy is right... I've made my share of quiet CD's and then over compensated when trying to fix it.

Aren't you the guy who hit me in the eye?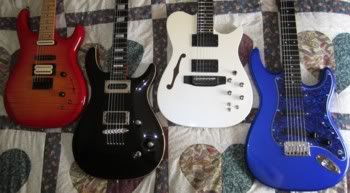 ---
---
That is the best article on the "controversy" I've ever read! Finally it was put out in terms I could mostly understand. I really loved the genious behind the paragraph in all CAPS. For a civilian like me, that got the point across.

Personally I love the sound of Vapor Trails. I like that it's loud and raucous and "in my face." It is suiting for the magnificent come back that it is.

Btw, has anyone heard when the remaster is due to be released? Or is it out already? I'm just curious to hear what others think of the supposed clean up sounds/will sound like.
I don't have faith in faith, I don't believe in belief, You can call me faithless, I still cling to hope, And I believe in love, And that's faith enough for me... Neil Peart
---
Posts: 1295
Joined: Wed Mar 31, 2004 2:09 pm
Location: Mansfield, (UK)
As far as I've heard, there is no VT remaster in the works. All the other Atlantic studios are there. Maybe they think its too soon
'Do not despise the snake for having no horns, for who is to say it will not become a dragon?'
---